At Woodstock Sterile Solutions, we have been at the forefront of sterile delivery solutions for more than 50 years, and we continually work to build on our capabilities to better serve the healthcare and pharmaceutical markets. As part of our mission to be a full-service provider of blow-fill-seal (BFS) technology and to offer the best solutions to our customers, we recently completed an expansion of our QC analytical laboratory.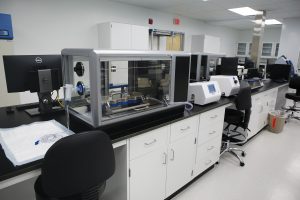 Our new, larger laboratory doubles the size of our previous space, helps us to build on our analytical expertise, and introduces expanded capabilities for WSS. We can now provide seamless method transfer and validation, API/raw material, finished product, and stability testing for our commercial and development customers. On top of all that, we are also in the process of enhancing our formulation and method development capabilities in order to offer the fully integrated drug development and manufacturing services that our customers expect and need.
At Woodstock Sterile Solutions, quality is our passion. The investment we have made in our QC analytical lab allows us to build on our in-house capabilities. With our expanded lab, our manufacturing team can now more easily collaborate with our quality team, improving coordination and ensuring on-time delivery. Our in-house experts can also complete root cause analysis investigations for out-of-trend/specification events that incorporate input from subject matter experts from R&D, manufacturing, quality assurance and quality control – who are all at the same location. Meanwhile, having production and on-site quality control laboratories in-house and under the same Quality System helps improve its effectiveness and accelerates continuous improvement.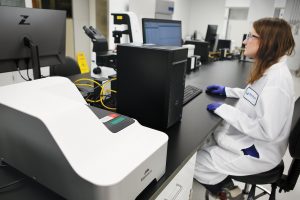 To further build our capabilities, we have added biocompatible HPLC and UPLC systems. These advanced liquid chromatography instruments test the purity and potency of the drugs being produced while detecting for impurities and other unwanted components. These systems have also been specifically designed to minimize interactions between the system components and biological samples to reduce the risk of contamination We have also added Malvern Mastersizer 3000 and Zetasizer particle size analyzers. Among other benefits, having these machines on-site speeds up particle size analysis. They also help improve efficiency by determining the optimal size range for particles within a product to ensure that they meet product specifications.
At Woodstock Sterile Solutions, we see a patient, family member or friend in every product that we make. Our goal is to be the best development partner in the industry, delivering life-enhancing molecules from the benchtop to the patient. That is why we are always striving to improve our business. The expansion of our analytical lab will help us to reduce cycle times for finished product release and stability testing and enable us to streamline issue resolution. Having manufacturing and testing all under one roof also helps us to deliver on our promise to be a one-stop-shop CDMO for diagnostic, ophthalmic and respiratory therapeutic customers.
---
To learn more about our analytical labs, commitment to quality and how we can work with you from development to full-scale production, contact us today.